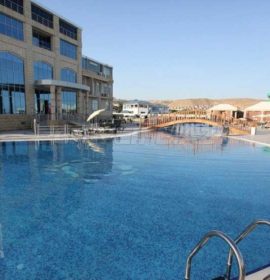 Bakı, Mərdakan, Azərbaycan

(+994 12) 554 07 39, (+994 12) 554 07 10, (+994 12) 222 55 11

No specify serve day
CONTACT OWNER
KHAZAR GOLDEN BEACH
Whether your stay for business or leisure, you'll find everything you want and need here, from an attentive staff to posh amenities. The hospitality is incomparable. The location is ideal. Arrange for a stay at Khazar Golden Beach Hotel and surround yourself in comfortable luxury.
Experience the most luxurious of accommodations in one of the Khazar Golden Beach's twelve deluxe suites. Each suite has its own guest room, while several have two floors and a Jacuzzi.
Whether you're looking for an invigorating workout, or just want to unwind, Khazar Golden Beach has what you need. Relax by the outdoor pool or in the sauna. Exercise in the complete fitness center. Or take advantage of nearby tennis and beach sports.