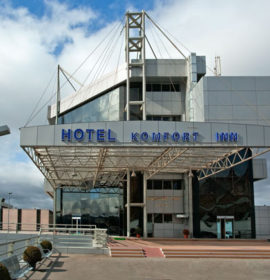 Bakı, Sumqayıt şossesi 3-cü km., Azərbaycan

+994 (12) 499 70 90

No specify serve day
CONTACT OWNER
COMFORT INN
İnşa edildiyi il: 2009, Korpuslar 1, Mərtəbə 5, Otaqlar 93. Oteldən şəhərin mərkəzinə olan məsafə: 15 km
We take care of your every need at Comfort Inn Hotel.
Our hotel is consist of 5 floors and 93 elegant rooms. We provide a wide range of guest services and offer our guests a daily cleaning service (our room maids make the beds, clean the bathrooms and empty the bins) and a weekly full cleaning service with change of all the provided linen (sheets, pillowcases, bath towels, hand towels, bath mats, and cloths). We will of course change your linen more frequently if required. 
Comfort Inn Hotel is situated very near to the center of our city. Strategically located near Avtovakzal (new inter-city coach station) and enjoys proximity to 20 Yanvar tube station that allows easy and fast access to central Baku. Glass & concrete architectural design, welcoming hospitality, nice interiors, good business and recreational facilities and cozy accommodation are the salient features of this three star hotel. Our hotel offers optimum facilities & attentive services at moderate rates.
If you would like to get to city centre then from 20 Yanvar station take a train towards 28 May station (passing through the following stations: Inshaatchilar, Elmlar Akademiyasy, Nizami) where you will need to leave and change a train going in another direction to Icheri Sheher station (passing just through Sahil station). 
There is a 24-hour cafe that offering snacks and beverages. Our friendly and helpful staff offers all guests a warm welcome and hospitality.